We take the opportunity of the opening of two of my exhibition to tell you about our last projects: we returned to Ireland to complete our residency on fishermen in Co. Cork. Afterwards we were off to the Omo valley in Ethiopia, to meet the remote Surma tribes.
We are now pleased to announce to you the opening of two exhibitions in Paris:
"Children of the world"
Gilles Perrin invited by the association "Demain nos enfants" at the French Senat Luxembourg palace, as a honored guest, September 23, 2008
And the exhibition will be continued at the Commercial stock exchange from October 29 to November 12, 2008: 2 rue Viarme 75001 Paris
"Recent works: Africa, Asia..."
October 17 to November 28, 2008
bâtiment des Douches, 5 rue Legouve, 75010 Paris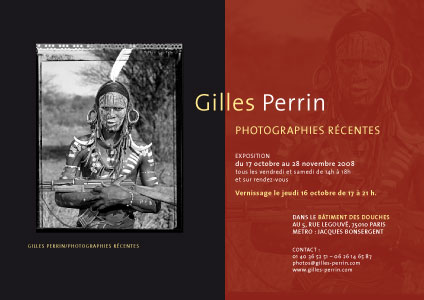 We do hope you come to Paris for Paris Photo and we can meet again
and have the opportunity to show you our last images.
All the best,
Gilles Perrin and Nicole
http://www.gilles-perrin.com
http://zonezero.com/exposiciones/fotografos/perrin/index.html

photos@gilles-perrin.com
Gilles Perrin and Nicole Ewenczyk
4 terrasse du Parc, atelier 1
75019 Paris, France
Tel/Fax: 33 (0)1 40 36 52 51
Mobile: 06 26 14 65 87
Skype: gillesperrin17
Au même titre que tous supports argentiques, la possession d'un fichier numérique
n'entraîne pas l'autorisation d'exploitation.